Here at Softworld we received a new toy. It is the new Sony QX10 external WiFi camera that can be paired and used with any smartphone (Android or iOS) available out there. So we decided to make a Sony QX10 review.
There is always some kind of photo activity going on in the office. Since most of the smartphones today have HD recording capabilities, we needed a special "extra" point of view while doing our interviews with clients, or just being "stealth" while taking photos. Therefore we went for a simple 2-smartphones setup and one person that manages the interview and records from 2 angles.
Below is our full Sony QX10 review and impressions.
Photo-geeks Sony QX10 Specifications
– 18.9MP 1/2.3″ (7.76mm) Exmor R® CMOS sensor
– Shutter Speeds : iAuto (4 – 1/1600) / Program Auto (1 – 1/1600)
– Self-timer : 10 sec. / 2 sec.
– Exposure Compensation : +/- 2.0 EV, 1/3 EV step
– Exposure Settings : [Still] Superior Auto, Intelligent Auto, Program Auto, Movie Mode
– Metering Modes : Multi Pattern
– ISO : [Still Image] ISO100-3200(iAuto), ISO100-12800 (Superior Auto), ISO100-1600(Program Auto)
– ISO Sensitivity (Movie) : [Movie] Auto (ISO 100 – 1000 level)
– White Balance Mode : Auto / Daylight / Shade / Cloudy / Flourescent White Balance 1 / Flourescent White Balance 2 / Flourescent White
Balance 3 / Incandescent
– Sony G Lens F3.3-F5.9 10x with Optical zoom while recording and AF
Focal Length (35mm equivalent) : [Still Image 16:9] f = 27.5-275mm [Still Image 4:3] f= 25-250mm [Movie 16:9] f = 27.5-275mm (SteadyShot
Standard), f = 27.5-385mm (SteadyShot® Active Mode) [Movie 4:3] f = 33.5-335mm (SteadyShot® Standard), f = 33.5-469mm (SteadyShot Active
Mode)
– Image stabilization – Optical SteadyShot
– AF Modes : Multi Point AF / Touch AF
– Tripod mount
– Image File formats JPEG (DCF, Exif, MPF Baseline) compliant, DPOF compatible FORMAT 4:3 : L:18M (4,896 x 3,672) S:5M (2,592 x 1,944)
FORMAT L:13M (4,896 x 2,752) S:2M (1,920 x 1,080)
– Movie file formats MP4: 12M (1440 x 1080, 30 fps)
What it doesn't say about Sony QX10: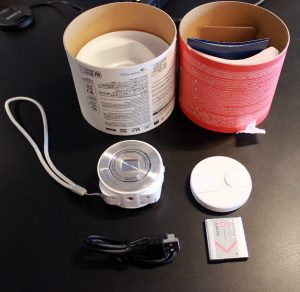 – Sony QX10 has 2 Built-in Microphones
– Sony QX10 has small LCD screen that indicates battery status
– Sony QX10 has a speaker (that can be de-activated/re-activated from your smartphone software)
– Sony QX10 can take photos without a mobile phone (though you'll never know what will turn out)
– Sony QX10 works even on older phones such as iPhone 3GS with last-updated iOS version.
Right out of the box the QX10 was fully charged and ready to record/take stills.
In the box you get: manuals, camera, smartphone support, battery and wrist strap
The first thing that got through my mind was to make the camera work. That meant putting the battery and turning it on.
Here are the steps to how to set up the Sony QX10 with your phone:
Step 1 – Download app – Play Memories Mobile (from your smartphone store)
Step 2 – OPEN YOUR WIFI
Step 3 – Connect to the camera : SSID: is written on the back of the battery cap – but you can figure it out…
Step 4 – Insert CODE (remember caps) – xxXXX7X7xx
Step 5 – open app and let it connect. (up to 20sec)
Step 6 "play with the camera"
How to connect the smartphone support to Sony QX10 camera and to smartphone.
When you use the smartphone-support you need to press the small latch (to release a pin inside) mechanism, twist clockwise the support until the support-line matches "locked" then release the latch. After that using your fingers (initially I was expecting some electric mechanism) you get the two clamps out.
To attach the QX10 to your phone you just extend the TOP CLAMP (not the bottom one), and slide your phone in. This process can be a little tricky, since most of the phones have side buttons that will get pressed by mistake.
Recharging the Sony QX10
To recharge the battery you have open the small USB port from the left side and connect it to your computer via the supplied from the box USB cable. The problem I had with this, is that the plug is very thin, and matching it to the port can be a little tricky.
When you first connect the camera to the laptop, it goes directly into charging mode, means you can't see the pictures from the microSD card, unless you press the powerbutton one more time. (if you have a microSD card inside it)
Fortunately we had the perfect challenger for this small James-Bond gadget, the Canon 600D (18-55mm IS kitlens), same amount of pixels, DSLR vs small QX10 contestant.
Wireless signal range: it depends on your phone and obstructions in the way of the WiFi signal.
One thing is for sure, if you get more then 5-6m away, the feed will start getting choppy.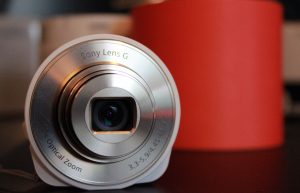 SONY QX10 REVIEW CONCLUSION
PROs
– Small camera, big zoom and easy to use, a true innovative gadget Sony wants to reinvent smartphone photography.
– Can be used with a lot of Android/iOS devices such as tablets – cool feature for a big screen.
– Has internal memory and can record photos without even taking your smartphone out (lots of fun doing that)
– Beautiful design and materials (though is plastic, has a refined touch feeling)
CONs
– The spread of the clamps from the smartphone support don't seem to extend that much, I would be scared to try it on a Samsung Galaxy Tab.
– When you attach it to the phone clamps might interfere with buttons along the way (volume for example)
– The attaching and de-attaching of the smartphone support can be tricky and you have to be gentle as well as use some force.
– The recharging cap looks a little flimpsy and the plug is very thin, you need to be very careful when you plug it in to connect/recharge, a miniUSB standard plug would have been much more appreciated (where I can see clearly the pattern).
Af
Gæsteskribent

Har du lyst til at byde ind med viden og erfaring i et gæsteindlæg?
Vi ønsker at skabe en platform for vidensdeling og erfaringsudveksling fra hverdagen, og derfor er vi altid interesseret i relevante bidrag fra folk men noget på hjertet.
Så hvis du har draget dig nogle erfaringer, eller har gode tips og tricks til værktøjer eller arbejdsområder, er du velkommen til at sende os dit bidrag. Send os en mail på kursus@softworld.dk!